Pressure Cooker Shopping Experience Unwrap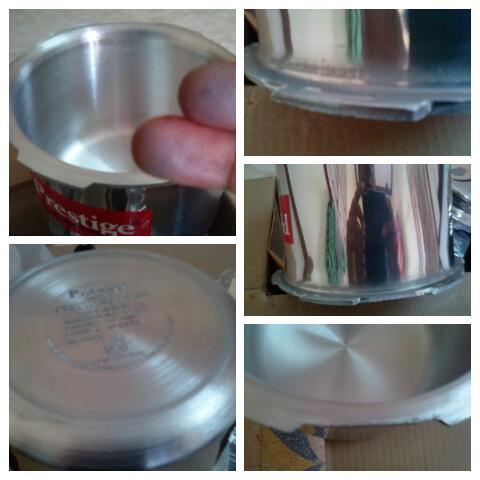 Need of pressure cooker for your kitchen? Most are decisive with capacity of cookwares but unware of features are not sure to go with a model while at a purchase. Online shopping or walk-in to nearby store is the next aspect to decide with. Here is the guide that could assist you in this.


Had a unwanted experience with online shopping. As had need of a 3 liter pressure cooker searched with amazon, snapdeal and filpcart. Few other portals didn't had enough number of models to choose from. To the surprise most buyers comments / reviews suggested not to go with the product purchase as were defective or sub standard. Still as price was quite moderate for a basic model ordered for a surya accent on snapdeal. Actually to add, placed the order only SD customer care suggested that on placing an order the SD account name would be get corrected which was showing some other name. So placed and cancelled the order next moment. Instead the item was shipped.

Now when unpacked the pressure cooker could find to be a defective and not as in description product. The bottom handle was misalignly fitted. Return was vague and uncertain process as SD provide no authentic cc number or mail id. Managed to get the refund to SD ewallet.

Next with amazon, superbrand prestige and a seller cloudtail pvt ltd did the same, shipped a unfinished and unfit product. The prestige popular 3ltr was so bad that could demonstrate to all the online shopping space became dumpyard for trash and scraps. Only by chance a buyer could get a usable product it seems.

Atlast walked in to nearby prestige store and again found the prestige popular basic model cooker is not at all compatible for cookware with its finish, bottom, edges and even handles. People find metal powder coming off the cookware while at use. Top brands are not interested in basic models as one could find medium range to high end models alone pose the grammar of cookwares.

Later after a thorough check could find prestige deluxe plus mini handi hard anodised 3.3 liters rs.1720, aluminum 3.3 liters rs.1280 and prestige deluxe plus aluminum induction base 3liters rs.1180 were reasonable and as described. Stainless steel variants are there but are heavy. Online sellers put these products for sale with just rs.150-200 price difference from stores.

Earlier a year ago bought butterfly standard 3liters. The cookware seem reasonable but the problem actually with gasket release system GRS set at lid, were even at medium flame on smaller burner steam busts out of GRS vent. Seems the vent is bit large or the gasket is too flexi so that steam build inside comes out of it even before weight lifts up to release the steam. Keep the cooker on medium flame and when it steams, have to put on low flame thenafter till required number of whistle. The other hitch is single screw handle. Within days loosens and have to screw it right periodically. All are basic safety aspects for a cooker to work proper.

At stores even known popular brand pressure cookers are not up to the level and only few models of Greenchef, Butterfly are somewhat reasonable. Best time for purchase is festival seasonal sales, clearance sales and fairs were one can examine cookwares in person and can avail special rate cuts.

Be sure of your way of cooking and so the cookware model to find a suitable pressure cooker. Check online the brand websites, ecom portals and compare price at different places before placing an order. If go for online purchase, confirm availability of stress free returns and refunds.