Best inverter for home - Luminous Zelio 1100i or Microtek SEBz1000

Are you looking for a home inverter? Here is a comparison of two popular inverters - Luminous 1100i vs Micrtek SEBZ 1000.


Inverters have become an essential part of every household. With the evolving work-from-home trends, nobody can afford a power failure at home. Online classes, official meetings, client interactions - everything happens through online and a power failure would mean a lot.


Types of Inverters

Based on the technology and the output produced, the inverters are generally classified into 3 categories:

1. Square Wave Inverter - Cheap option but most equipments will not work with this type
2. Sine Wave - This is the relatively expensive type and will support all devices and equipment.
3. Modified Sine Wave - This is similar to the Square Wave but the waves are modified to be closer to the Sine Waves. This type of inverters will support more devices than Square Wave but not every device like the Sine Wave.

If you are looking for an inverter for your home, I would strongly suggest you go for a Sine Wave inverter. Buying an inverter is a one-time investment and you don't want to see that some of your devices do not work when you are using the inverter.


Best Inverters for Home use

I am introducing a few inverters for home use. You can buy these inverters from local dealers, brand websites or from online retailers like Amazon. I have given the product links as well.


1. Home UPS Zelio 1100i

If you are looking for a smart inverter for your home, then Luminous Zelio 1100i is a great choice. Gone are the days of having an ugly looking inverter and batteries dumped under the staircase. The all new Zelio 1100i is a great looking appliance that you can proudly showcase in your office room or living room. Check out the range of home ups and inverters from Luminous.

In my own home, our inverter is placed outside on the first floor of the house in a separate area as suggested by the architect. However, everytime when I need to check the health of the inverter, I need to go upstairs and check.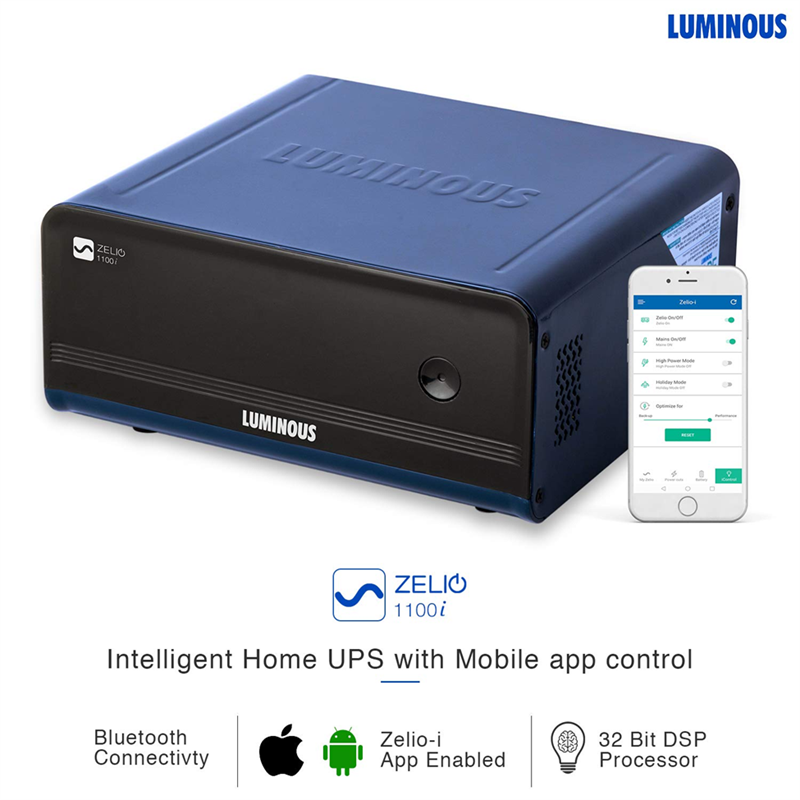 The Zelio 1100i comes with a very handy and smart feature - you can check all statistics and status of the inverter on your fingertips using a smartphone. The Zelio 1100i comes with a very cool mobile app that shows a lot of details including:

Available backup time
Available battery capacity
Input voltage
Current running load (for my old inverter at home, the only way for me to know the load status is to wait until it shuts off due to overload)
Power failure history and duration (wow, what a useful piece of data!)
Notifications


The Notifications feature is a very handy one. When the inverter is not doing well, like overheating or overload etc, you will get instant notification on your phone and you can take corrective action.

In addition to the mobile app, the device comes with a cool LCD display that shows the essential information for quick view any time.


Other Specifications:
Powered by 32 bit DSP Processor
MCB for Short circuit, Battery Overcharge, and deep discharge
Bypass switch which keeps supplying output from grid even in case of Home UPS fault
Warranty: 2 Years
Advantages of Zelio 1100i

The Zelio 1100i supports a wide battery range (Flat Plate, Tubular & VRLA (SMF)). The output produced from Zelio 1100i is Pure sine wave, which means support for most devices and equipment.

One of the best advantages of this smart inverter is the capability to monitor and control the inverter through Smartphone App.

Zelio 1100i is a very silent device and offers noiseless operations with the help of low harmonic distortion. It is safe for all connected appliances at home, giving you uninterrupted power supply at home.

Find out more details of Zelio 1100i.


Microtek Inverter UPS SEBz 1000

Microtek Inverter UPS SEBz 1000 is another popular inverter for home use. Although visually and feature-wise not as appealing as the Luminous Zelio, Microtek's SEBz 1000 definitely holds a good market share in the residential UPS segment. One of the key difference from the Zelio model is, on the SEBz 1000, all the indications are on the inverter itself. Various statistics can be seen directly on the inverter as visual indicators whereas on the Zelio model, you can see most of those indicators on the smartphone app.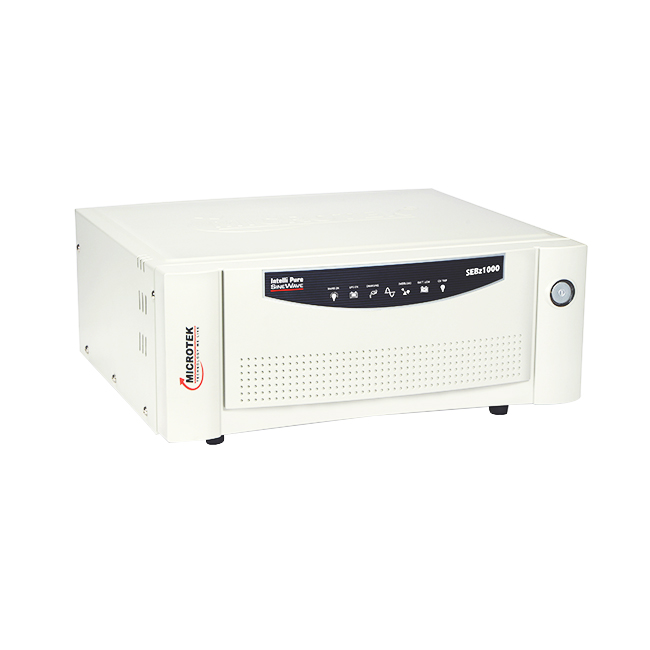 The SEBz 1000 UPS comes with overload protection and short circuit protection, which makes the inverter to shutdown the output and protect itself. Also, the UPS has built-in Electronic Protection Circuit that protects the Batteries from getting Deep Discharged or Over Charged.


Key features of SEBz 1000

Rated Capacity: 900 VA / 12V
Output Power: 725 Watts
Battery: 1 Battery System (12 VDC)
Waveform: Pure Sinewave
Warranty: 2 Years

Check out more details here.


A Comparison of Zelio 1100i and Microtek SEBz 1000

Here is a brief comparison of both the models:

Power: The Zelio 1100i model comes with a power of 756Watts and SEBz 1000 comes with 725 watts, as per the manufacturers. This means Zelio gives better performance and thus has an advantage over the other one.

Maximum Charging Current: Zelio uses 15A and SEBz uses 14A. This means, with a 180Ah battery, there is about 1 hour difference between both, giving a significantly lower charging time for the first one.

Connectivity: Zelio uses an advanced smart system and uses Bluetooth technology to connect with smartphones. This is an advantage over SEBz 1000, which is a more traditional model. Using a smartphone app, users can have full control over the inverter, including turn on and off anytime.

LCD Display: Zelio has a smart LCD display which shows various statistics of the inverter. SEBz doesn't have a display of this kind. This gives a modern look to the device.

Indicator Lights: SEBz 1000 has multiple indicator lights on the device, which gives a quick overview of the status of the inverter. Zelio doesn't have these indicators on the device.

Design: Zelio has a great advantage here. The modern and elegant blue color design is very eye-catchy. SEBz 1000 has an old box-style design, which some users prefer just because of the traditional pattern they are expecting on the inverters.

Protection Features: In case of a system failure, the bye-pass switch on the Zelio allows bye-passing the inverter circuit and allows direct power from the grid. This means, until you get the service person, you can depend fully on the direct power supply and skip the inverter without any expert help. On the other hand, the SEBz 1000 has a fuse, which protects the device but you may need help to remove the inverter from the circuit to enable direct power supply.

Warranty: Both the models come with 24-months warranty, so there is no difference in this case.


Which one to choose - Zelio 1100i or SEBz 1000?

If you look at the comparison above, the Zelio 1100i has multiple advantages and I would recommend you go by the Zelio. However, you are not very concerned about the features but price is an important factor, I would suggest you choose SEBz 1000.